Visit Norway primarily to see its fjords
Norway's major attraction is the beauty of its coastline, which is considered one of the most scenic in the world. Norway's fjords are spectacular and have become the focus of travelers who choose to explore this Nordic wonderland. The Northern Lights are another significant attraction, but best seen between late autumn and early spring (warm clothing required).
Aside from Oslo, which is modestly sized in terms of area and population, other cities in Norway are quite smallish, "working" cities focused on exploiting the country's natural resources. Although many coastal villages are quite scenic, the further north you go, the more you will find settlements designed to resist winter and allow commerce, but not ones, generally, focused on tourism.
Norway is an expensive country for tourists. There seems to be a general rule in the world that taxation and vacation costs increase significantly in countries north of the fifty-fifth parallel. Another observation is that tourist attractions change from the cultural landscape to the physical landscape in the high northern or southern latitudes.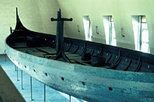 Oslo City Hop-On Hop-Off Tour
From Viator Tours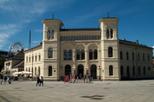 Oslo Combination Cruise and Tour
From Viator Tours
Names in Teal are regions of the country.
Fjord Country
Norway's fjords are "U" shaped, steep-sided valleys carved by glaciers that eroded the country's coastal mountains as glacial ice flowed to lower elevations during the last Ice Age.

These valleys became fjords when they were flooded, as glaciers melted due to a temperature increase and other factors associated with climate change.
It is thought that world-wide sea level at the peak of the last ice age (around 20,000 years ago) was 120 meters (394 feet) lower than it is today, due to much of the world's water existing in frozen form (See this article from NASA for more details).

Although there are many fjords to explore, we recommend the remote, but spectacular West Norwegian Fjords of Geirangerfjord and Nærøyfjord, located north-northeast of Bergen.

These are two of the longest and deepest of Norway's fjords and are considered exceptionally beautiful. Both fjords have been awarded UNESCO World Heritage Status.

If you prefer a fjord closer to Bergen, explore the Sogenfjord, the largest fjord in Norway, that is known for its length, beauty comprised of steep-sided, towering cliffs, green pastures and crystal clear water. The Sogenfjord is often referred to as the "King of the Fjords".

If you visit the Sogenfjord area, you might want to spend some time wandering the nearby Nordfjord, which is narrower but quite spectacular in its own right.

Visit this website for a comprehensive guide to the fjords of Norway, as well as information on cruises, scenic routes and tours.
We recommend touring Norway's fjords on a formal cruise or by sailing with the Norwegian Coastal Service or Hurtigruten, a time-honored alternative to formal cruising.
Bergen

Bergen gets a lot of play because it is a good place to start a tour of Norway's Fjord Country. Bergen's inner harbor and "Old Town" are pleasant: the town has a long and interesting history, which is well represented in local museums.

From Bergen, you can travel by bus and train through parts of Fjord Country and doing so is worth the effort, as the scenery is some of the most beautiful in the world (although the fjords are best seen from the water).

You can, also, catch the Hurtigruten, the famous Norwegian coastal steamers, for an interesting ride as far north as most travelers will ever want to go.

Finally, you might consider a more formal cruise of the fjords since a cruise is a wonderful and relaxing way to see Fjord Country.


Oslo

Although Oslo is Norway's capital city, as well as its most populous one, it has less attraction for the tourist than Bergen. If you like modern art, be sure to see the Edvard Munch Museum.
If Norwegian history is your preference, the Viking Ship Museum (Vikinskiphuset) is sure to be a hit
Visit OSLO is the official tourism website for the city and provides details on additional attractions.
Stavanger

Trondheim

Tromso
Visit Norway is the official tourism website of The Norway. The site includes additional details on our recommended best places to visit in Norway, as well as information on locations and attractions that did not make our list.
For country facts on Norway, as well as information of value to travelers (visas, traffic safety and road conditions, medical facilities and health information), see the U.S. State Department's Consular information page on Norway.
If you need information about another travel destination, try our Destination Guide Index

Custom Search