Seville Weather

The Best places to Visit in Seville presented here describe the most popular tourist attractions of the city that is the capital of both Andalusia and the province of Seville.
Our coverage focuses on the Barrio de la Santa Cruz, which is the old quarter of the city. Although there is much to see and do in Seville, the major tourist attractions are close to each other and can be viewed in a day.
Some areas of
Seville have a relatively high crime rate and you should exercise caution during your visit.

Pickpockets
frequent most tourist areas, even during the day.
Barrio de la Santa Cruz

El Arenal
The El Arenal district is just west of Santa Cruz and Torre del Oro is on the river, just a few blocks southwest of the Cathedral.
Torre del Oro

Although one of the central attractions in this section of the city is the city's Plaza de Toros and its bullfights, the main draw for many tourists is the Torre del Oro, part of the walled fortifications developed by the Moors to defend the city. No one is quite sure why it was named Tower of Gold, as this reason has been lost to history.

The Torre del Oro tower was linked with another tower on the far bank of the Guadalquivir River.
The two towers were connected by a massive chain that could deny entrance to Seville by any ship designated unfriendly by the town guards.. Today the building houses a maritime museum that contains a few interesting exhibits.




Plaza de Espaᯍaria Luisa Park

One of the popular stops on most tours of Seville is the Plaza de Espaᬠa plaza built for an exhibition of industry and technology held in 1929.
Although the exterior architecture and tile work are striking, there is little else to see or do here. The buildings are currently government offices and not open to the public. One popular pastime is renting a boat and paddling around the Plaza's extensive canal.
For more details on visiting Seville, the official tourism website for Seville is TourismoSevilla. The site provides additional details on our recommended best places to visit, as well as information on attractions that did not make our list.
For country facts on Spain, as well as information of value to travelers (visas, traffic safety and road conditions, medical facilities and health information), see the U.S. State Department's page on Spain.
If you need information about another travel destination, try our Destination Guide Index or Googling ThereArePlaces.
Custom Search
The Plaza de Espa᠍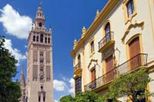 Private Monumental Seville Walking Tour
From Viator Tours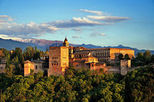 Granada Day Trip including Alhambra and Generalife Gardens from Seville
From Viator Tours