Sweden is a country that is an attractive travel destination. The first time visitor will find the landscape attractive and inviting, the cities compact, stylish and functional, and the Swedes attentive but serious (at least until you make a friend). Sweden is at its best during the summer and early fall. If you can schedule it, visit Sweden during one of its holidays and see the country come alive.
Sweden has a number of number of extremely interesting attractions spread across this relatively large country. As is common in the Nordic countries, Sweden is an expensive place for the tourist. We consider Sweden a classic "add-on" destination for inclusion in an itinerary involving several countries.
Sweden has many different "faces" to show the traveler and our recommendations on the Best Places to Visit in Sweden can help decide the right itinerary for you. A visit to Sweden will be remembered for a lifetime. We believe that the cities and regions described below are the country૥y tourist destinations, contain Sweden's best attractions and urge you to visit them during your time traveling in Sweden.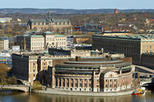 Stockholm in One Day Sightseeing Tour
From Viator Tours
Original Stockholm Ghost Walk and Historical Tour
From Viator Tours
Stockholm Royal Sightseeing Tour
From Viator Tours
Stockholm Archipelago Sailing Adventure
From Viator Tours
Names in Teal are regions of the country.


Stockholm

Stockholm, Sweden's capital, is a delightful city that was founded in the 13th century. The city is spread over fourteen islands and its environment is both scenic and stately. To the west is the beautiful Lake M䬡ren and to the east is the Stockholm Archipelago. Water is a unifying theme in Stockholm and the city's beauty reflects this charming pairing.

The Old Town or Gamla Stan is a must see. With its cobblestone, curvy narrow streets and interesting shops it is an attractive location. The Old Town is centered on the island Standholmen, but is spread cross Riddarholmen and Helgeandsholmen.

The core area dates back to medieval times and Gamla Stan is a wonderful place to wander while spending a day. The area is filled with interesting buildings, great shops and good places to eat.

Swedish crystal is in abundant supply in this city, so take a close look at the amazing variety you will find. Shopping is,also, a delight when you are looking for fine-quality clothes.

Good restaurants abound and herring and salmon lovers will be in heaven. "Herring Bars" can be found at many restaurants and you will likely see herring prepared in more ways than you knew existed.
The Vasa Museum houses an intact 17th century frigate (the Vasa), geared for fighting that sank on her maiden voyage and was found to be almost perfectly preserved when raised fifty years ago.

See the official website of the Vasa Museum for details on visiting this amazing restored shipwreck.

Stockholm is a lively place for the arts and Sweden is a festive country. Be sure check local sources for current exhibitions, concerts and celebrations.

See the official tourism website of Stockholm to see what's "on" during your visit.

Consider a day trip to Drottningholm Palace, the residence of the Royal Family of Sweden (and a World Heritage Site). Located on an island in Lake M䬡ren, it features interesting architecture, a wonderful park and a noted Chinese Pavilion.

Official information about the Royal Domain of Drottningham can be found here.

Another interesting day trip is to take the steamship SS Mariefred to Gripsholm Castle (Slott) and the town of Mariefred in the shores of Lake M䬡ren.
Stockholm is also a good jumping off point for a tour of the Stockholm Archipelago, an area of islands, sea rocks and great natural beauty.
If you plan on giving Stockholm a real going over, consider purchasing a Stockholm card for "free" admission to 75 museums and attractions - more information can be found here.
Another option, you might consider, is the Stockholm Pass that is provided by Destination Stockholm, when you book your hotel through them. See this site for details. (ThereArePlaces mention of Destination Stockholm is neither an advertisement nor a recommendation.)




Gothenburg (G䥢org)

Many travelers feel that G䥢org, Sweden's second largest city, is both easier to tour and provides better exposure to the culture and people of Sweden than Stockholm. Once known as a seaport, the city is now one of Sweden's leading cultural and sports centers.
Be sure to visit the Liseberg Amusement Park, the R賳ka Museum, the Haga/Linn鳴anden area for shopping.
If you are a car buff and have the time, take a tour of the Volvo car assembly plant. Taking the "Blue Train" is fun and informative, but make sure you reserve an English speaking tour.
See Goteborg.com for more information on the many interesting attractions in G䥢org.
Consider using G䥢org as a base for exploration of the coastal towns to the north and south.
Consider touring the Varbergs Fortress, a massive castle overlooking the North Sea. It is located,forty miles to the south of Goteborg. See this official site for more information.
While in this area you might be interested in learning more about the Hallands Kulturhistoriska Museum.
While in the Gothenburg area, you might want to stop in Bor峬 also known as the "city of sculptures". This delightful town has a large number of high-quality, outdoor sculptures by internationally noted artists. Some of the sculptures are whimsical and some are statements, while others are simply enchanting.

Tours of the leading sculptures are held in the summer and you can find out more about the sculptures and the city at its official website .
Uppsala

Regarded as a center of the Swedish culture and history, the city has played a crucial role in the development of Sweden. At the center of the Old Town visit the Domkyrkan (Cathedral) and the Castle. Uppsala is less than an hour by train from Stockholm.

Uppsala Tourism provides great information on this area those interested in visiting.
Southeastern Coast/Småland

The Southeastern section of the coast of Sweden features beautiful seascapes, interesting islands, and a good bit of history. There are several historic towns to see in the area and you might consider Kalmar as a base for your trip.

Kalmar

A delightful town featuring a wonderful castle (Kalmar Castle) and an interesting cathedral (the Domykyrkan). The Kalmar area is fun to explore. See this official website for more details on attractions.




Crystal Country

West of Kalmar and southeast of V个੮ Smaland Province , is the famous crystal production area of Sweden often called the Kingdom of Crystal. If you like crystal and would like to take home some new pieces, this area is a must see as there are more than a dozen producers of high quality crystal in this area, including Orrefors and Kosta Boda.

See the official Kingdom of Crystal website information for more details on visiting this charming area of Sweden.
The official tourism website for Sweden is Visit Sweden. It provides additional information on the places we recommend. as well as details on other attractions that have not made our list.
If you want to find out more about contemporary Sweden and its music, facts, films, images, and a wide range of topics, try Sweden.se, which is the country of Sweden's official website.
For country facts on Sweden, as well as travel information related to visas, driving rules, safety, medical conditions, visas and other travel-related information, see this page on Sweden Travel from the Bureau of Consular Affairs of the U.S. State Department. Regardless of your home country, we think you will find the information provided to be useful when planning a trip to Sweden.
Be sure to see our Tourism Roadmap of Sweden, based on Google Maps, that shows the locations of our recommendations for the Best Places to Visit in Sweden. You can also route between locations using the map.
If you need information about another travel destination, try our Destination Guide Index or Googling ThereArePlaces.
Custom Search