The larger Las Vegas casinos offer some fabulous shows that are very popular with visitors. If you hope to see one or more of these delightful extravaganzas during your visit, reserve them as far in advance as possible. The most popular shows are booked weeks in advance and if a "hot" performer is appearing, you need to book the show and a room when the "news" breaks or lose out. Headliners change all the time in Las Vegas, but we doubt you will be disappointed by those performing during your visit.
Shows in Las Vegas are expensive - the better shows run over a hundred dollars or more for a good seat. If you gamble high stakes wagers you may be able to get free tickets for major shows (a process called comping). If not, the shows are usually extravaganzas and you will be glad that you saw one, even if you paid the entire cost of the tickets.

All of the larger shows have one or two "dark" days per week when performances are not scheduled, allowing the cast time to recuperate and re-energize. Unfortunately, the timing of the "dark" days seems to vary between casinos, so if you are planning on seeing a specific show, make sure that it will be open during your visit – in other words check on the availability of shows as part of your initial planning process.

Many of the shows at the smaller casinos, particularly the showgirl types of reviews, are not heavily booked and you can reserve tickets for these quite easily. The same is true of the shows for many of the entertainers, who are having a "retirement" career at the less popular casinos in Las Vegas. Note that in most of these cases the entertainers "rent" the room from the hotel and are responsible for their own marketing and expenses. You may find bargains for some of these shows as the entertainer hustles to meet their budget.
You should know that most major casino have a bar/nightclub area where you can listen to great performers for the price of a drink, or if you do not feel like drinking, most of the stages are an open platform and you can hear the show anywhere in the immediate vicinity. We recommend the New York, New York, which has an impressive soundstage and top-notch performers. If you like a little more intimate setting, the Bar at Times Square at NY, NY is great fun. Finally, the lounge on the Casino level at the Venetian usually rocks.

If you are thinking about walking to your show, use our map of casino-resorts to locate the casino hosting the show.



Click any section of the circle below for our page containing that information. The segment shown in gold indicates the section of the guide you are viewing.



If you need information about another travel destination, try our Destination Guide Index or Googling ThereArePlaces.



Custom Search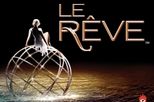 Le Reve at Wynn Las Vegas
From Viator Tours